How to convert a Denford   / ScanTek 2000 Micromill to LinuxCNC / Mach3 control
Part 1 – 3 Axis control
Video here, details below

My ScanTek 2000 ScanMill (A re-branded Denford Micromill 2000) has a dispatch date of 2005, which means that it's main controller is a Baldor NextMoveST card. This card supports USB as well as RS232 control signals, and runs a custom (MINT) programming language that can offload machine control from the host computer.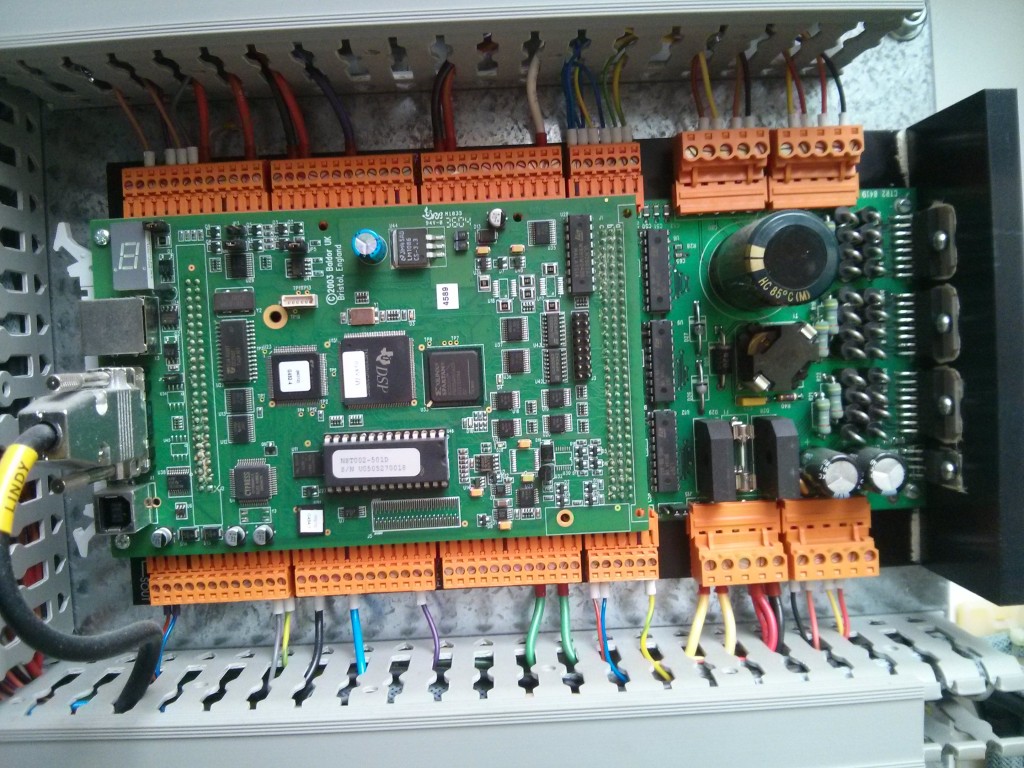 You can actually download the MintNC development tool from the Baldor website that allows you to upload custom Mint programs to the card, and could make it (for example) do some simple operations offline with no driving computer. However, I am not interested in writing Mint code to interpret g-code, so I'm going to set it up so that LinuxCNC (or Mach3) can control it via a parallel printer port.

To do this, I will remove the top card from the NextMoveST entirely, and leave just the bottom card. The bottom card is where the stepper motor drivers live, and I can plug directly into their step and direction pins, plus grab +5v to drive my break out board.
First, connect to one axis (I used X) and get your parallel port Break Out Board (BOB) and software working. Mach3 offers a free trial and is easy to set up if you are running Windows, or you can use LinuxCNC. [I used Mach3 for set up, and plan on switching to LinuxCNC for actual operation.] I purchased a cheap laptop that was old enough to have a parallel port built in to have a small dedicated machine for the mill (The Thinkpad T and X lines in the 30, 31,40,41 range are good options.)
The 96 pins are arranged in 32 rows of 3 pins. The columns are ordered "backwards": C,B,A with C on the left and A on the right.
C1 B1 A1 <--- top right
C2 B2 A2
....
....
C32 B32 A32 <--- bottom right
I used a 96 way DIN connector from DigiKey (PN:1195-1197-ND $4), but you could use three 32 pin female sockets to connect to them. The [wire color] indications are just the colors of the wires I used, so you can match them up with my photos, the actual color doesn't matter as long as they conduct electricity, but red for +5 volts and black for ground is a good standard to follow. I used stranded AWG 22 hook-up wire. I decided on   yellow and white for step and direction because I don't use those colors as much, and   wanted to make sure I used those rolls up.

My BOB needed a 5v supply, so I got it from the board,
A1 - VCC   [Red wire]
A3 - GND   [Black wire]
NOTE: On the Dispatch date 2005 ScanTek 2000 I had, they were using a
Baldor (now ABB) NextMove ST. The card looks like it is mounted "upside down"
as all of the text on it is upside down, BUT, the top of the card as mounted in
the Denford / ScanTek steel case still corresponds to pins c1, b1, a1. Testing for 5V between A1 and A3 verifies this.
I used the baldor-eurocard-schematic-and-pinout.pdf document found on the Denford forum to verify the pin assignments below.
To get your BOB / Parallel cable / Software working, you only need one
stepper connected for testing (I used X).
12A - X Gnd GND/Common on parallel port card. [black wire]
14A - X Step Pin 3 (sherline standard) [yellow wire]
15A - X Dir Pin 2 (sherline standard) [white wire]

The non-Sherline layout is: (step & direction reversed…)
2=X step, 3=X dir, 4=Y step, 5=Y dir, 6=Z step, 7=Z dir, 10=Limit, 11=Z home, 12=X home, 13=Y home, 18-25= Ground, All others are not connected

I   used pieces of 1/8″ (or smaller if you have it) heat shrink to cover each solder joint, but if you don't strip   extensive lengths of wire the DIN connector pins will keep them from moving, so this is not really necessary unless you expect a bug or falling object to short out some   connectors.
Then get your software to work and jog the X axis. Note that on Mach3,
the first parallel port is port 1, but the configuration dialog defaults to "port 0" for everything, so change the port to 1, and the pins to 2 or 3 for step/direction. You will also have to disable the ESTOP input or set it to active low so that it won't complain about ESTOP being always on until you connect up the ESTOP button.
The breakout board I bought was from CNC4pc (the C10 – BI-DIRECTIONAL PARALLEL PORT INTERFACE CARD) for $30. I was annoyed to find out that it used a DB25 female connector (the same as my computer) so that a 25 pin Male2Female standard parallel printer cable would not work without a gender changer. A DB25 male/male serial cable however allowed me to plug it directly into my parallel port without any extra adapters. It may turn out later that I will need a 0-10v DC isolated spindle control signal, which this break out board does not offer, but I'm hopeful that I'll be able to find a pin on the 96 way header that controls the spindle speed using TLL logic levels.
Don't forget to get +5 volts to the Enable connection as well. You could use this on an EStop for a physical shutdown of the breakout board.
[Technically, you could connect the wires from a parallel port cable directly to the 96 way connector without an opto-isolating break out board, but if something went wrong it could fry your parallel port or motherboard, so the break out board is inexpensive insurance, and the screw terminals make attaching wires nice and easy.
After you get the first axis working, spend the time to solder up the rest of them as follows:
14B - Y Step Pin 5 (serline standard) [yellow wire]
15B - Y Dir Pin 4 (sherline standard) [white wire]
17B - Y Gnd GND/Common between 4/5 on BOB [black wire]
14C - Z Step Pin 7 (sherline standard) [yellow wire]
15C - Z Dir Pin 6 (sherline standard) [white wire]
17C - Z Gnd GND/Common between 6/7 on BOB [black wire]
(I'd suggest you do the Y axis first, so that you are not fighting to get
behind the Z axis wires when soldering them.)
Watch the video above to see my steppers actually move.
Check out part 2, where I hook up the homing switches on each axis, as well as the E-STOP button.  
The biggest remaining job is to figure out how to enable the spindle control board. My reading online indicates that it takes a DC 0-10 volt signal and maps that to the spindle speed. The difficulty is that this voltage is with respect to the AC voltage on the spindle controller board, so it's really from 110-120volts or soabouts, which means you can't just plug it into a 5 volt break out board and expect anything good to happen. You need a completely isolated 10 volt supply for it.   However, the NextMoveST board does drive this spindle driver board, so I am confident that I can drive one of these 96 pins with a PWM signal to get the spindle running. Of course, now I just have to find the correct pin.
Check out Part 3 where I get the spindle to turn on and off (at full speed only) using a pin on the breakout board. In Part 4 I get PWM speed control working.
My overall goal is to be able to connect to the mill using  ONLY the 96 pin connector, to keep the upgrade as neat and clean as possible.