Normally you add details as one of the last steps when painting a model. For this spider from the Castle Ravenloft board game, I used Cerulean Blue (hue) acrylic ink from Liquitex to line most of the depressions on the back and the gaps between each leg segment right after the black automotive spray primer. Yes, it took a bit of time to pick out each segment and the depressions on the back, but I knew it would be worth it as soon as I saw the result. The high flow of the ink (vs standard acrylic paint) was key in filling the depressions without making the brush work too difficult.
The lining easily took half of my total time on this model. After that, it was very quick (other than drying time between colors) to dry brush brown, followed by highlights of golden brown to accent the spider's body.
Then all I needed to do was detail the eyes with bright red and the "fangs" in a vanilla/bone color.
At this point, I've used six colors (including the black primer as a color).   I also added some neon yellow to the underside of the fangs and the tips of the front four arms to suggest venom, but I think you could have left it off and not lost anything.
I was so pleased with this effect that I ordered the Fluorescent Red and Fluorescent Green acrylic inks from Liquitex so that the other two spiders would be different colors.
Once they arrived, I quickly learned that using "transparent" inks (like the Fluorescent series…) on a black background only gives a dull wash of the color (potentially useful elsewhere, like in the dark eyes of a skeleton, but not what I was going for here. So I also had to buy an opaque Liquitex Titanium White to fill in the areas I wanted to "fluoresce" white before covering the white with the red/green inks. The cerulean blue was an opaque ink, so could completely cover the black primer.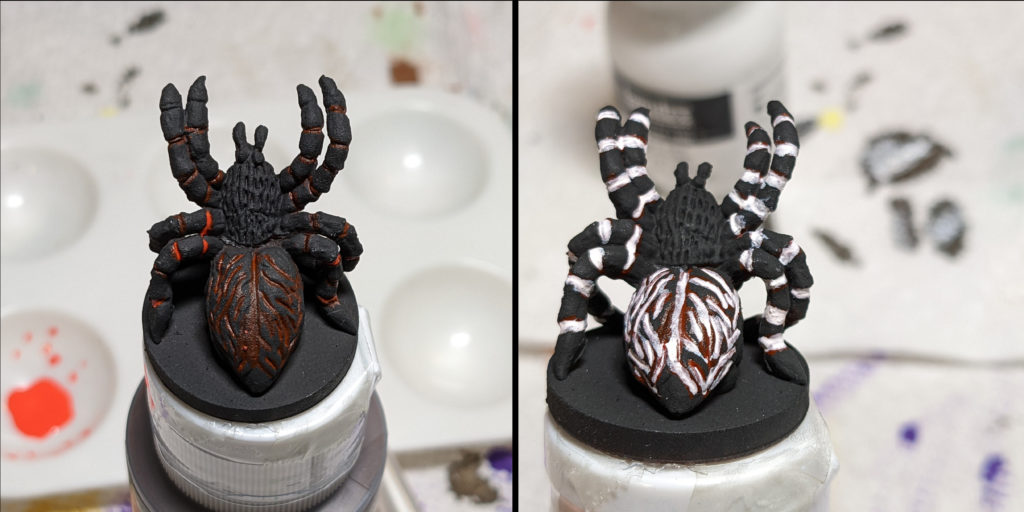 Then I tried using green shades on the spider with red highlights. Unless you are looking to decorate for Christmas, it didn't quite look right. So I painted over the green with purple and violet, and called it done.
On the green accent spider I used a dark gray / gray / metallic white pearl color scheme and was happy enough with it (although I think the brown colors scheme on the blue spider is the best of the three…).

With a $30 lightbox, they do photograph nicely as a set.